CRM stands for Customer Relationship Management. It is the strategy for managing a company's relationship and interactions with its customers and prospective customers.
Goal
The goal of CRM software is improving the customer service or assisting customer retention, using analytics and increasing sales.
Benefits
CRM often involves using technology to organize, automate and synchronize service, sales and marketing functions of the company.
Resolve customer complaints, track leads, close opportunities, and automate sales process and present complete view of your customers' life cycle.
CRM software consolidates customer information into a single database, so companies can more easily access and manage sales and marketing.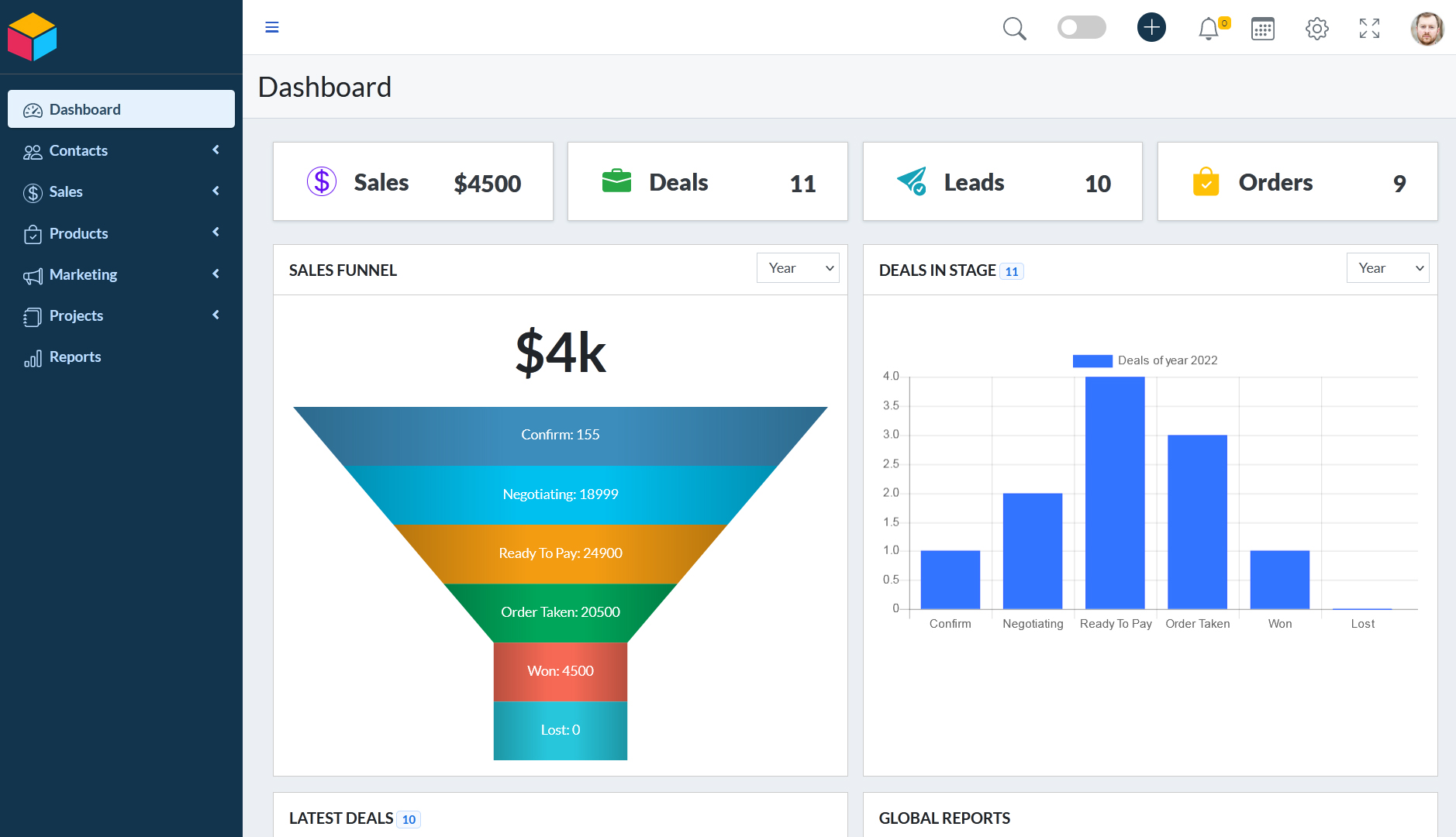 Features
CRM software provides following features:
CRM Dashboard
In this dashboard, you can view entire sales funnel, reports, lead status, customers, sales, users, map etc on a interactive graphical dashboard on monthly/yearly basis.
Contact Management
This management helps you to maintain your contacts, leads, accounts, customers, phone numbers, emails etc in a centralized place.
Web to Lead
This feature is used to directly collect and capture the lead from your websites- contact us page and add into CRM Software in leads management's module.
Database Management
This is used to manage your contact, leads, accounts, customers, phone numbers, emails etc in a centralized place.
Accounts Management
This features provides you to View and manage your accounts such as company information, contacts, phone numbers, emails etc in a centralized place and view sales information.
Leads Management
This is used to capture leads from various sources like website, web to lead form, CSV, mobile, contacts, email and easily categorize them as per lead status.
Deals Management
In this you can view sales pipeline and online status of leads in their respective stage like customer lost, customer won, leads, negotiation, proposal, prospects in a drag and drop format.
Customers Managements
In this, this management provide you to view and manage your customer's database such as contacts, phone numbers, emails etc.
Sales Management
This feature provide View Company sales- monthly, quarterly or yearly basis, view sales target vs achievement. It helps in sales automation, sales force management and analysis.
Forecast Management
This feature provides View details of sales vs forecast, percentage quota achieved, top achievers, amount in pipeline etc. It helps the organization to achieve the sales targets efficiently.
Reports and Analytics
In this you can View customers, deals, leads, sales, pipeline, forecast, sales by users, map on a- day/week/month, reports online. It helps in business process management, i.e. to discover, analyze, improve and automate sales process.
Notifications
This features get alerts when web to lead form is filled, appointment, lead generated or any other activity, also receive email alerts based various CRM module activation like form submission, daily report etc.
Newsletter
Launch an email marketing campaign and send email newsletters to customers, accounts, leads etc and track the mail response.
Mail
This is an internal messaging system to send emails to customers, accounts, and leads etc via CRM Software.
Document Management
In this you can upload, track, manage and store documents. In this product literature, presentations and other sales and marketing documents can be stored online and shared with prospects.
Product Management
In this you can add products and view the sales related data of the product at all stages of the sales cycle.
Invoice Management
In this features, you can create and send invoices, add product information, pricing, discount, delivery charges etc. Also save invoice as PDF file, send invoice by email to prospects and view Reports.
User Management
This features enables admin or sales manager to control user access and on board and disable users from using the CRM Software. It can also be used as sales management module to manage sales staff.
Admin Control Panel
CRM provides this functionality where dashboard of all company related settings like add/edit/delete users, view analytics, add API settings, send newsletter, view reports, change logo, CSS and do any other administrative function.
File Manager
CRM provides File Manager functionality such as it provides a user interface to manage files. Admin can upload files such as product literature, brochure, documents, PDF etc, and these files can be viewed by users and used for sales and marketing purpose.
Calendar
CRM software provides setup appointment using Online Calendar and use it as a scheduling application that lets sales staff to keep track of events, appointments, meetings etc.
Facebook CRM
CRM software provides complete integration with Facebook Ads. It is easy to setup and automates the lead generation process.
FinCRM.com is the best CRM Software which has all the above features
Pl. check – www.fincrm.com